Product Overview
Brand New In Box
Philips SHB9001 Bluetooth
Stereo Headset
iPhone, Android, Blackberry, All Bluetooth Cell Phone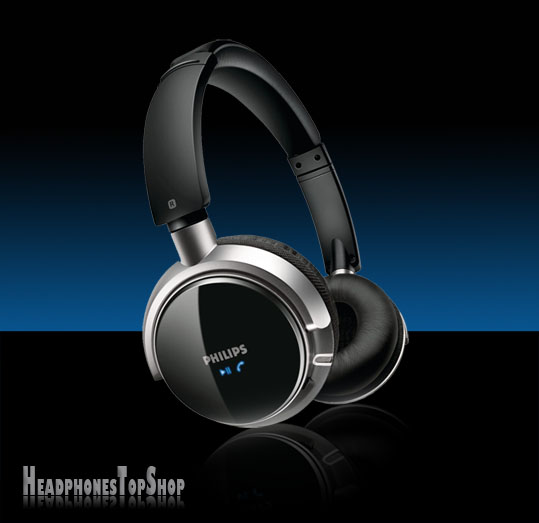 For Wireless Calls And Music
The

Philips SHB9001 Bluetooth

Headphones is the best headset for you Cell phone while providing quality stereo music listening.
Experience "better than corded" sound from the headsets acoustically tuned speaker chassis, its FullSound sound enhancement and its built in echo and noise reduction. Great sound and comfort have never looked better and having the best clear calls using the Philips EverClear technology.


PHILIPS SHB9001 Highlights:
Premium sound quality
• FullSound enhanced music
Make sure you are clearly understood
• EverClear technology for clear calls
Universal: Works with your Bluetooth enabled phone
• Bluetooth® Stereo (A2DP compliant)
• Bluetooth HSP/HFP compliant - Universal
Always ready
• Corded headphone option
Talk freely - handsfree and wireless
• Wireless call management
PHILIPS SHB7110 Features:
Bluetooth HSP/HFP compliant
Bluetooth is a cable replacement technology. Bluetooth is a global standard, so Bluetooth devices of different manufacturers can interoperate using shared Bluetooth profiles. HSP (Handset Profile) and HFP (Handsfree Profile) are the profiles required for typical Bluetooth headset operations. If your mobile phone is compliant to HSP or HFP (like virtually any Bluetooth enabled phone) this headset will work with it. The Bluetooth word mark and logos are owned by the Bluetooth SIG, Inc. and any use of such marks by Koninklijke Philips Electronics N.V. is under license.
Bluetooth® Stereo (A2DP)
This Philips device fully supports Bluetooth Stereo (A2DP). A2DP (Advanced Audio Distribution Profile) compliance enables this headset to receive stereo music from any Bluetooth device that is A2DP compliant. Therefore you can use this headset with any compatible mobile phone, PC, Bluetooth adapter, MP3 player etc. that supports A2DP.
FullSound enhanced music
What is music without heart and soul? During the recording and compression of digital music details and dynamics of the live music get lost. FullSound is a smart algorithm, running on a powerful chip inside the headset. It improves the quality of your music and restores the music's original dynamics, stereo effects, bass and treble to reveal previously unheard detail without distortion. FullSound is enabled out of the box, and can be turned off and on.
Wireless call management
Manage your call without using your mobile phone. This includes call aceptance, rejection, voice dial and redial. Voice dial and redial have to be supported by your mobile phone.
EverClear for clear calls
Phone calls are often led in noisy environments, leading to difficult to understand conversations. In this headset Everclear Technology digitally filters out noise, so a clear voice signal is received and sent out for crystal clear calls. It also recognizes if you enter loud environments and adapts the headsets volume accordingly.
Corded headphone option
Your Philips Bluetooth stereo headset sounds great - so why only use it with wireless Bluetooth devices? Plug the included 3.5mm line in cable into the headset on one end and your music players 3.5mm headphone jack on the other end and you have a great high performance headphone for your non-Bluetooth enabled music players!
SwitchStream
With SwitchStream you will hear a ring tone in your headset when you are receiving a call on your Bluetooth enabled phone. You can then pick up the call from your headset and return to your music after ending the call. Never miss a a beat, never miss a call.
Pictures of the Back of the Box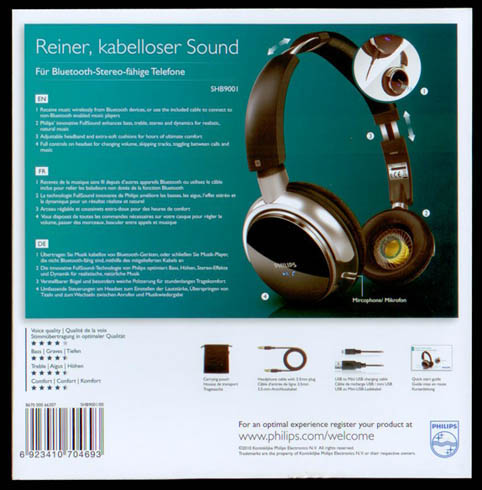 PHILIPS SHB9001 Specifications:
Connectivity
•Bluetooth profiles: A2DP, AVRCP, Handsfree, Headset
•Bluetooth version: 2.0+EDR
•Audio Connections: 3.5mm Line in
•Maximum range: Up to 15 m
Sound
•Magnet type: Neodymium
•Speaker diameter: 40 mm
•Frequency range: 15Hz-24kHz
Convenience
•Call Management: Switch between call and music, Answer/End Call, Reject Call, Voice dial, Last number redial, Call Transfer, Microphone mute
•Volume control
Accessories
•Pouch: Soft travel pouch
•Quick start guide: Quick Start Guide + User Manual CD
•Audio cable: 1.5 m audio cable for flight mode operation
•USB cable: Included for charging
Power
•Battery Type: LI-Polymer
•Rechargeable
•Battery weight: 10.6 g
•Music playtime: 17 hr
•Standby time: 400 hr
•Talk time: 18 hr
Packaging dimensions
•Type of shelf placement: Dummy
•Packaging dimensions (W x H x D): 19,5 x 22 x 5 cm
•Packaging dimensions (W x H x D): 7,7 x 8,7 x 2,0 inch
•EAN: 69 23410 70469 3
•Gross weight: 0,41 kg
•Packaging type: Dummy
PHILIPS SHB9001 What's In The Box:
• Philips SHB9001 Headset.
• Carrying Case
• USB to Mini USB Charger
• Headphones cable with 3.5mm Plug
• Quick Start Guide
Warranty Information
One Full Year